Top Articles
Casino Trends in 2016: What does the Future Hold?
Casino Trends in 2016: What does the Future Hold?
2016 is now in full swing. We've got past the horror that is January, February whizzed by like it wasn't even there and now we're into March. These few months have been quite clear on what to expect in terms of casino trends in 2016. Before this year completely runs away from us, we've got enough information to look into what will be the key casino trends for 2016.
The Dominance of Online Casinos
Nevada's 71 poker rooms have reported a 2.85% drop in their collective revenue, year on year, from January 2015- turning a revenue of $9.5 million in January 2016. All the while, the online gambling market has been predicted to see a compound annual growth rate of nearly 11% between now and 2020. This is a strong argument to suggest that a key trend for casinos in 2016, and possibly beyond, will be the dominance of online casinos.
The online gambling market is currently worth $37 billion a year. According to the American Gambling Association, this can be attributed to the fact that 85 nations across the world partake in internet gambling. Europe is the strongest of all the markets, and according to the European Commission, online gambling in the Old Continent is worth almost $15 billion a year. On top of this, the EC estimates that the European market is growing faster than the rest of the world.
The United Kingdom is the healthiest online gambling market within the European powerhouse. Here there are over 18 million online gambling accounts, spread across dozens of providers. The UK's strength is in part due to the fact that they do not ring-fence their members, they allow players from all over the world to play together- no matter which country they are playing from. Between 2009 and 2005, the United Kingdom Gambling Commission reported a play increase of 328% for online slots, a 52% rise in table games and a 26% rise in online poker and a shift of player attention to related real-world tournaments.

Photo source: http://forumserver.twoplustwo.com
So what's causing this move away from the casino floors and onto the screens? There's definitely still the pull of a live casino, the drama, excitement and lavishness will never go away, however, technology is advancing this trend. There are now more options for the stay at home gambler to enjoy their favourite casino games anywhere they choose.
Providers are allowing them to play on their desktop, tablets and even phones. Online casinos are accessible, easy for anyone to join and try out and there have been several success stories of newbie gamblers seeing big wins. Coupled with the fact that internet providers across the world are offering faster and more reliable services to their customers at cheaper rates, it's no wonder that online casinos are seeing a boom.
Virtual Reality Casinos
Virtual reality is a concept that has been on the tip of the trends tongue since the 1980s, when pioneering computer scientist Jaron Lanier introduced the term to the world. Ever since, companies and developers have been pushing this technology forward, and we're now starting to see virtual reality casinos step into the present.
At the ICE event in London at the start of February, Swedish casino games developer NetEnt showcased an interactive innovation experience with reality slot machines as a key highlight of their exhibit. Visitors were invited to enter the world of their popular Jack and the Beanstalk game with their new virtual reality offering - a trend that gaming giants see as being key for 2016 and beyond.
Virtual reality is an exciting move for online casinos, and it's not surprising that slot machines are the game that are spearheading this trend. Slot machines and popular culture have a very rich history of moving with each other. Generally we see slot machines being led by trends in popular culture, with famous personalities and films becoming games, whereas here they are leading the trend.
And what do we think is pushing the virtual reality casino movement? Well, companies like NetEnt are certainly doing their bit to be creative and constantly challenge their market, and then there are developments such as the Oculus Rift Head set, which will be released in 2016. This is the latest in virtual reality technology and it's bringing VR into our homes, on to our computers and our phones. Coupled with the fact that casinos are constantly struggling to win the attention of the millennial audience, who were raised on screen technology. Advancements like this are making the dreams of virtual reality casino operators a reality, and we predict that in 2016 we'll see more offerings on the market.

Photo source: http://www.youtube.com/
Grabbing the Attention of Millennials
We've already touched upon what we think is going to be one of the biggest trends in casinos for 2016, and beyond, and that's attracting more millennials to bricks and mortar casinos and online casino brands alike.
A millennial is someone who belongs to the demographic that follows generation X. Generally researchers and commentators use birth years to define a generation, and anyone born in the early 1980s and later sits in the millennial demographic. According to the US Chamber of Commerce, 59% of millennials turn to the internet for information and entertainment. There are 92 million millennials in the US alone, Goldman Sachs reports.
Millennials grew up in an electronics-filled world. They experienced the social media boom first hand - they were part of it, shaping its future. They have received more marketing attention than any other demographic before them. As well as this, millennials were raised on the "follow your dreams" mantra - they tend to be confident, sure of what they want and savvy with how to get it.
For bricks and mortar casinos, this is proving to be a cause for concern. As their core population ages, casinos are wondering who is going to replace them and how they attract them. Of course, the next generation of casino players is made up of millennials, but they're not walking through the doors.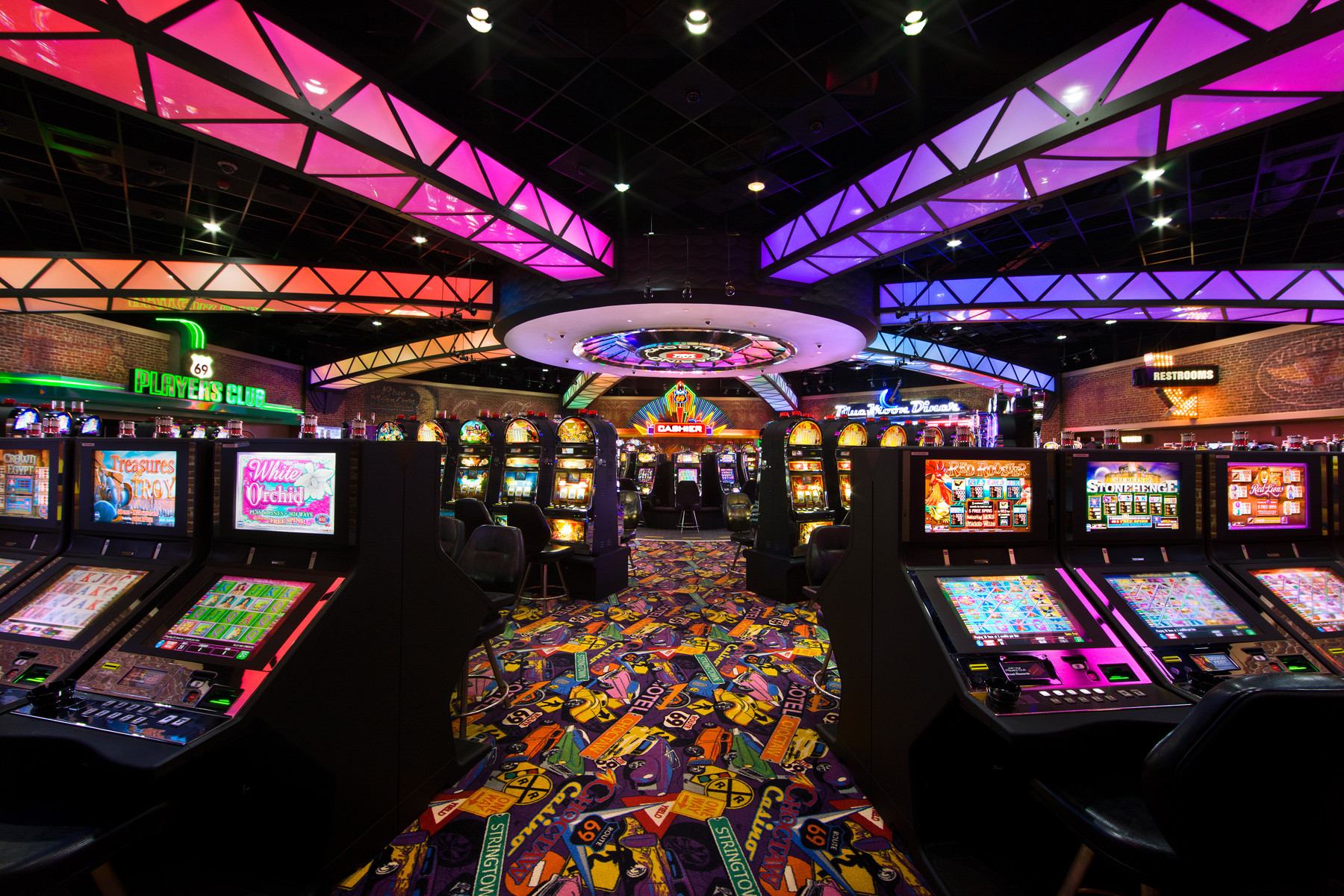 Photo source: www.casino.org
As a result, casinos will be bringing more skill based games and technology to their floors to entice the younger players. Social elements will become more important, with food and beverage options improving to get the millennials through the doors. After all, this generation is used to a plethora of options when it comes to dining.
2016 should be an exciting year for casinos, it looks set to be one that is strongly tilted towards technology. Everyone in the market is going to have to work hard to keep up with the fast moving developments, but we also believe that it will be key not to let new technology run away with itself and respect the rich history of casinos.
---
Special Reviews and Articles
By Paul Steven
By John Stevens
By Paul Stephens
By John Jones
By Paul Stephens
By
By
By
By Paul Wilson
By
By
By
By
By JackRag
By JackRag
By JackRag
By JackRag
By JackRag
By JackRag
By JackRag
By JackRag
By JackRag
By JackRag
By JackRag
By JackRag
By Steve Larson
By JackRag
By Steve Larson
By JackRag
By JackRag
By JackRag
By GNews
By GNews
By Eeyore
By B Raggers
By Eeyore
By B Raggers
By B Raggers
By B Raggers
By B Raggers
By Eeyore
By B. Raggers
By Eeyore
By the Cut-off Razor
By the Cut-off Razor
By eeyore
By B. Raggers
By The Cut Off Razor
By EEYORE
By B. Raggers
By The Fox
By The Viper
By The Viper
By The Viper
By The Viper
By The Viper
By The Viper
By The Viper
By The Chaser
By The Viper
By The Viper
By William W. Grey
By Chris "SpuddyD" Flint
By John "Emrys" Dempsey
By Gareth "The Nugget" Jones
By Mark "The Chaser" Greenwood
By Mark "The Chaser" Greenwood
By Warren Clarke
By Tim "Dogma" Flanders
By Pokerlistings
By Pokerlistings
By Pokerlistings