Grab your Cheap Seat for this year's Irish Open with this great Promotion frpm Paddy Power. To check out all the latest Offers and download the Paddy Power Client simple click the banner below :-

Cheap Seats
Cheap Seats – the straight talking, low cost series, that turns raw poker talent into Champions… and all for a mere five quid buy-in, just look at Patrick Clarke.
Don't know who Patrick Clarke is? The pleasure is truly ours - Patrick Clarke was the Irish Open 2014 Champion that took home €250,000 and won his seat via a Cheap Seat qualifier. You don't need a calculator to tell you that's a good return on investment!
Cheap Seats are exclusive to Paddy Power Poker and what makes it even better is the fact that, the only way to get into a Cheap Seats final is through a €5 qualifier so you're less likely to come up against big jawed card sharks.
And if you don't believe us, here's what Clarke had to say….
"I thought the Cheap Seats series was a great idea. They consisted of €5 R/A qualifiers into a weekly Grand Final that was qualify only, meaning that no one could just buy directly in to the super sat. I started playing them in December and as it turns out I won my seat the 1st time I made the Grand Final! I played my R/A game on the Wednesday night to win into the grand final on the Thursday, and because I started playing back in December, the fields weren't as big so there were big overlays. I only had to beat 7 players in my Grand Final to win my seat, early bird catches the worm and all that."
Cheap Seats Schedule
Daily Feeder to the Cheap Seats Grand Final @19:30
A Cheap Seats Grand Final will take place every second Wednesday night @ 20:30 until [November] and from then on will take place weekly.
One additional Irish Open seat will be awarded for every €3,500 in the prize-pool of each Final and winners will be joining us in Dublin in 2015 for one of the best live poker festivals in the world.
The Cheap Seats Grand Final will take place every week, and remember, no direct buy-ins will be accepted - you must win your Grand Final seat in our daily Cheap Seat tournaments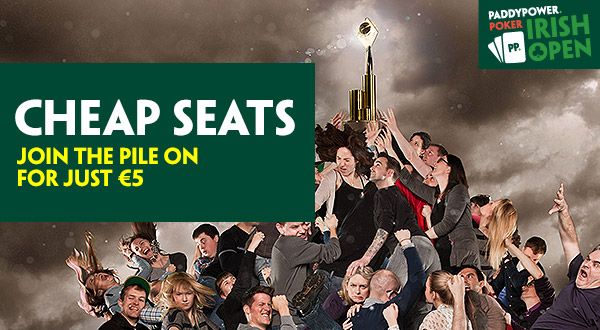 Terms and Conditions
1.Players who win more than one Irish Open seat on paddypowerpoker.com will be permitted to transfer the additional seat to a different player. The player must email
irishopen@paddypower.com
immediately after qualification to request the change of name, and the new player name must be supplied at least one week prior to the Irish Open event. For those who win the seat in the final 7 days leading up to the Irish Open, they must send the change of name the day after the satellite in order for it to be possible. The replacement players will not be eligible for the Sole Survivor promotion.
2.Players who qualify for the PPP Irish Open 2015 main event on paddypowerpoker.com will be eligible for the Sole Survivor promotion, whereby the longest lasting paddypowerpoker.com qualifier in the live Irish Open event will win €50,000 cash (added to the prizepool by paddypowerpoker.com
3.Players agree that by participating in the Sole Survivor promotion they undertake to wear branding as supplied by paddypowerpoker.com at this event and to take part in any related promotional activity as stated by paddypowerpoker.com for a period of six months following the event into which the qualification process took place.
4.Standard Paddy Power Poker Terms & Conditions apply